Bauer Vapor 2X vs CCM Jetspeed FT1 Ice Hockey Skates
Put ice hockey skates head to head to compare size, weight, and more.
Ice Hockey Skates
Bauer Vapor 2X Ice Hockey Skates
CCM Jetspeed FT1 Hockey Skate
Summary
Rating
Rank
Weight
685 Grams
Heat Moldable
Yes
Holder
TUUK LIGHTSPEED EDGE
Runner
Size 4-5.5: LS3, Size 1-3.5: LS2
Tongue Material
Recoil Tongue
Boot Construction
3-D Lasted Curv® Composite Quarter
Liner
LOCK-FIT liner
Outsole Construction
PRO TPU
Footbed
Lock-Fit
Warranty
90 Days
Product Line
Vapor
Details
Brand
Bauer
CCM
Prices
MSRP
$206.49
$249.98
Used Price
$144.54
$174.99
Sale Price
$185.84
$224.98
Ice Hockey Skates Descriptions
Bauer Vapor 2X Ice Hockey Skates
Bauer Hockey is proud to unveil their latest addition to their Vapor skate line with the introduction of the Bauer Vapor 2X Senior Ice Hockey Skates! With key improvements made to nearly every part of the Skates, Bauer looks to offer ultimate performance every time you step onto the ice! Starting with the build of the Vapor 2X Hockey Skates, the quarter package is built with Bauer's Acceflex system. Rather than going with a highly stiff boot, this design allows for a very slight amount of flex within the boot, allowing it to conform to the natural shape of your foot, which helps with overall performance and comfort! This new design is constructed out of Bauer's 3-D lasted Carbon Curv Composite material with an X-Rib pattern on the back and Comfort Edge padding within the boot. This setup provides a familiar snug, close to the foot feel. Additionally, it is incredibly lightweight and durable as well, thanks to the Curv Composite material. The X-Rib pattern on the back of the Skates helps lock the heel into place for quicker crossovers and tighter turns! Going hand in hand with the Carbon Curv boot construction is the Recoil tongue. This new design provides players with improved forward flex meaning more range of motion during skating strides. This tongue also excels in comfort and protection thanks to the molded felt and dual injected metatarsal guard better protecting the top of your foot from blocked shots or stick checks. On the comfort aspect, the tongue is constructed of three-piece 48 ounce felt! Staying True to the asymmetrical concept seen within the Vapor, the Vapor 2X Hockey Skates take it a step further with the introduction of their new asymmetrical toe cap and box! Using the profile of 25,000 player scans, Bauer has optimized this new design to enhance your push-off power, helping increase top-end speed! Compared to its predecessor, this new toe cap and box is a touch shorter in height and longer in length. Moving to the interior of the Vapor 2X Hockey Skates, they feature Bauer's Lock-Fit liner. This liner is specifically designed to keep players feet dry and comfortable, as well as locked into place during gameplay in order to maximize skating efficiency thanks to a specialized grip on the lower half of the liner. Paired with the Lock-Fit liner are the Aerofoam+ memory foam pads within the ankles of the boot. This all-new foam delivers premium thermoformability, great comfort and durability, and an improved fit! The lower half of the Vapor 2X Hockey Skates feature Bauer's tried-and-True LightSpeed EDGE Holders. These Holders are three millimeters taller than older model LightSpeed Holders allowing players to get lower on their turns. Paired with the LightSpeed EDGE Holders are the LS3 Runners. These high-grade stainless-steel Runners are three millimeters taller than their predecessor, the LS2 Runners, giving players an increased angle of attack, and increases blade longevity from sharpenings! With the additions of the Accuflex system, Recoil tongue, and the asymmetrical toe cap, every element of the Bauer Vapor 2X Senior Ice Hockey Skates offers ultimate performance and a quality feel every time you put them on your feet!
CCM Jetspeed FT1 Hockey Skate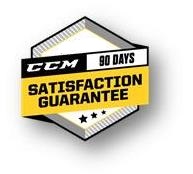 CCM Jet Speed FT1 Hockey Skate features a RocketFRAME Composite Quarter Package with LITEFRAME 360 Technology. A tapered fit provides players with a close, 360° tapered fit around and under the foot. The Jetspeed FT1 further features Speedcore 3, which is a super lightweight, rigid, and thermo-formable, provides players with a boot that molds to their foot. TOTALDRI Pro Liner with Durazone abrasion protection helps wick moisture away from the skin, keeping your feet dry and the Skates light. A smooth conTour pro comfort pad around the collar of the boot provides long-term comfort during use. A multi-density assymetrical memory foam wraps anatomically around the foot for fit and comfort. A TRItech Tongue with molded lace-bite protection keeps players feet and ankles protected from lace-bite. Lightweight composite mIDSole enhances the energy transfer platform for blade to boot interfacing. CCM Custom footbed (powered by CURREXSOLE™ ) is a customized arch support providing an increased area of contact with the skate to maximize performance. Speedblade 4.0 provides proven durability with an increased attack angle for greater strides and better cornering. Speedblade Hyperglide runner is a high performance polished steel blade for greater glide efficiency and a longer edge life.