Bauer Supreme M4 Ice Hockey Skates Review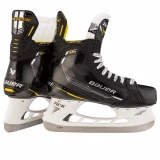 Bauer Supreme M4 Ice Hockey
Brand New
About Bauer Supreme M4 Ice Hockey Skates
The Bauer Supreme M4 Ice Hockey Skates are specially designed for players who are looking for top-notch performance and comfort on the ice. These skates are crafted with a durable exterior that can withstand tough wear and tear, making them ideal for players who want to stay on the ice for a long time. The skates feature a classic fit, which provides ample space for the player's foot while ensuring excellent support and stability.
The Bauer Supreme M4 Ice Hockey Skates come with a TUUK blade holder that delivers superior performance and precision. The holder is designed to allow for easy blade replacement, ensuring that players can always have a fresh blade on the ice. The skates also feature a lightweight construction that allows for quick movements and improved agility. With these skates, players can enjoy enhanced speed and mobility on the ice, giving them a competitive edge over their opponents.
The Bauer Supreme M4 Ice Hockey Skates are designed with comfort in mind. The skates feature a microfiber liner that provides a soft and comfortable feel on the feet. The liner is also designed to wick away moisture, ensuring that players' feet stay dry and comfortable throughout the game. The skates also come with an anatomical footbed that provides excellent arch support and helps to reduce foot fatigue. With these skates, players can enjoy a comfortable and supportive fit that allows them to play their best on the ice.
Bauer Supreme M4 Ice Hockey Skates For Sale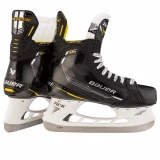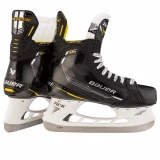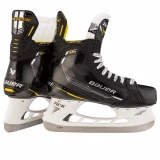 Most Popular Skates
Bauer Supreme M4 Ice Hockey Skates Variations
Bauer Supreme M4 Ice Hockey Skates Questions and Answers
---
Ratings and Reviews
Great performance and cost-efficient
A great cost-efficient alternative to the top-of-the-line model. 10 years removed from playing at the highest level of hockey, I have found these to provide me with the performance I need to still play competitive hockey. These are very comfortable and broke in rather easily (it took 2 mens league games). I sized down exactly 2 sizes from my standard shoe size and they fit perfectly.… read more If possible, I definitely recommend to go in and get fitted as there are multiple width options.
Great skates
My 7 year old loves these skates! His previous skates would hurt his feet, but the comfort of these skates with the superfeet in them are perfect! He never complains about these skates, highly recommend!
My sons first new skates.
My 10 years first pair of new skates. He was so happy with how comfortable they fit. He's played 5 games with them already and absolutely loves them.
M4 junior skates
Purchased these skates for my 8 yr. Old and they have been fantastic. Combined with super feet insoles they are a must for yound skaters.
Great fit for wider feet.
Comfortable. Spot on fit for wide footed 11 year old.
Great skate
My son loves these skates. They are wide enough to fit his feet. He has been making turns tighter than I've ever seen him make.
Bauer M4 skates.OK should be better, cheap details
exterior of skates are fine, fairly comfortable. Blades are hard to remove. inside of boot and lining is wearing out after only 3 months of skating twice a week. Cheap laces will not hold up or hold tight. Plan on replacing the laces as soon as you buy the skates. They are that bad. Between the laces and the lining, extremely poor for skates costing nearly $500. I would expect better.
Youth skates
Solid skate for my youth hockey player. Good support and protection in the boot. Spring for the insoles, but they are probably fine without.
Excellent
Excellent skates, true fit and good for beginners.
Well worth the money.
Excellent fit right from the first time on ice with these. The comfort is outstanding, they're living up to the advertising Bauer uses concerning performance, and after the baking, they're breaking in very well. Looking forward to actually playing on these.
Bauer Supreme M4 Ice Hockey Skates
LS Balance blade was a problem for my son who has been skating for over a year on CCM beginner skates. Had to get my blade sharpener to re-profile the blades so my son wasn't slipping.
Helps with independence and changeable blade
Blades can be removed, ease in lacing giving my son more independence in tying his own skates. Moldable and fits perfectly.
The Junior version only is a downgrade from the 3S
With the new extra flex zone, one less eyelet and a soft boot, this will be great for beginning skaters. However the changes are a downgrade in performance. Advanced skaters with smaller feet will need to move up to the M5 Pro which is much stiffer in the lower part of boot while still being quite comfortable up around the ankles. This should be a strictly entry level skate.… read more Bauer really needs to add back a mid level skate to the Jr line.
New skates
Excellent service, staff is knowledgeable and very helpful.
Awesome Skates
Awesome skates, fit good before the bake, even better after the bake.
New Supreme model much better
I also have a pair of 3S skates. I like the M4s so much better. They fit better and feel more comfortable and less cumbersome. I am definitely happy with my M4 purchase.
Solid skates
My 14u loves them. Skated well from the first skate, no issues with breaking in like previous pairs. Very comfortable.
Great Skate at a Decent Price
Great fit, my daughter feels she is faster just using the standard blade profile in a Jr 3.5 size. Before this she had the Bauer 3S Pro in a Jr 2.5 size. She feels better about this skate at 2/3 the price. Get the custom insoles.
Daily Deals