CCM Jetspeed FT4 Pro Grip Composite Hockey Stick - Intermediate Review
Featured Deal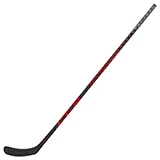 CCM Jetspeed FT4 Pro Grip Composite Hockey Stick - Intermediate
If you are looking for a great performing hockey stick at an affordable price, then look no further than the CCM Jetspeed FT4 Pro Grip Composite Hockey Stick. This stick is ideal for intermediate level players who are looking to improve their game. The FT4 Pro is constructed with a high-quality composite material that provides excellent durability and strength. It also features a textured grip that ensures you have a firm hold on your stick during play. Additionally, the CCM Jetspeed FT4 Pro is equipped with a low-kick point design that provides players with more power and accuracy when shooting. ...read more
CCM Jetspeed FT4 Pro Grip Composite Hockey Stick - Intermediate For Sale
Most Popular Composite Hockey Sticks
Specifications

Brand
CCM
Category
Composite Hockey Sticks
Weight

380g (Senior)

Length

55 Flex - 55", 65 Flex - 57"

Construction Material

Nanolite Carbon Layering

Kick Point Position

Mid

Shaft Design

R-Shape

Blade Construction

RR-90 Stiff

Tapered

Skeleton+

Warranty

30 Days

Family

JetSpeed
Daily Deals

CCM Jetspeed FT4 Pro Grip Composite Hockey Stick Variations
CCM Jetspeed FT4 Pro Grip Composite Hockey Stick - Intermediate Reviews
Great Stick But Fragile
It was a great twig while it lasted. It lasted about 40 days of competitive high school hockey before the toe started to crumple and chip and crack. Performance wise it's the best twig I've had but has durability problems in the toe.
Best of the best
I see a ton of bad reviews my son plays hockey 5-9 times a week year round his latest stick is hammered but never broke nor did his ft3 pro that he used the same and after a year got a small crack. Luck of the draw but we love them and never going back.
Weak Stick, breaks easily
We really liked the weight of the stick and is why we went with it. I've purchased 3 of these FT4 pro grip for my 13 yr old son. All 3 broke in the same spot at the bottom of the shaft. None of which broke before 30 days to get the replacement. No more CCM sticks, going back to Bauer. Unknown
Broke quickly
Broke right after the warranty on day 46. My son is a Bantam and it broke on a slap shot at practice. For the cost I was frustrated that neither Pure Hockey or CCM would exchange it. In addition, it took 4 attempts to get a response from CCM. This was my son's first and last CCM stick. We will continue to buy Bauer or True.
so good best in my opinion
i bought this right when it came out and still not one chip when on all my bauer have gotten chips mid season or broke this one so far has been the best ive had but not for snap shots but that's because of the kick point i will definitely buy the ft5 pro and have recommended to everyone on my team they have all been just as satisfied as i was
Great stick, lacks durability
Great stick. The puck feel was a nice balance of responsive yet dampened, similar to Bauer nexus line. Very lightweight and balanced. Stick did break around the blade in 5 games though. So reason why I knocked 2 stars was due to durability concerns. This seems to be a common trend among alot of top of the line "lightweight" sticks. They all tend to break easily, which is a… read more shame because they are all quite pricey. But if you can afford them, this stick feels top notch.
Be wary wary quiet!
I really can't write a review cause it's a Christmas gift! Shhhhhh! After Christmas I'll write one! Ha.....Merry Christmas
Good Feel but Terrible Durability
Bought two on 11/12/21 for my 14 yo son and both broke very easily. One broke by blocked shot and other by taking a snap shot. The shafts provide great feel and release, but break very easily. For the price the product needs to last longer Unknown
Better than the Hyperlite
My son purchased this stick recently. He also has the Vapor Hyperlite. He says this stick is way better and more pop.
Not durable, wasting money!!!
My son loves this stick. We had the ft3 pro stick before this one and he broke it while playing a few months ago.. bought another one and it broke. He wanted to get the new one ft4 pro and over this weekend he did a stick lift on a kid and it cracked right at the shaft! Same as the other ones. I refuse to buy another one. He went with the hyperlite stick and is adjusting just fine!… read more For such an expensive stick I don't think a young kid could go through 3 of these in less then a year !
Broke on us, didn't replace it
son liked the stick, but it broke up by the top of the shaft on a backhand shot 60 days post purchase. not saying it's the stick's fault, maybe he blocked a shot or something and weakened it, but he's not a huge strong kid and has never broken a stick before in 5 years of playing. We bought a True to replace it and he likes that stick much better he says.
FT 4 Pro
This stick is light and has a great mid level kick point to it. Highly recommend !!
Great stick to hang on your wall!
This Is a terrific, very lightweight stick, but it breaks extremely easily. My 16-year old daughter has gone through four in one season. Heads up!
Jet speeds are all you ever need
Absolutely the most consistent shooting stick I've ever had! The feel stick handling is improved a lot over the previous model! 2 weeks in so far with it and loving every minute on the ice with it!
Great stick
Great stick--10 year old son loves it. Switched from the Trigger line.
Super Super Tackastical!
Super light and my son says the release is just as good if not better than the Trigger 5 pro. He is 14yrs old. Plays travel level.
CCM Jetspeed FT4 Pro Grip Composite Hockey Stick - Intermediate Questions and Answers
---