CCM Jetspeed FT480 Ice Hockey Skates - Senior Review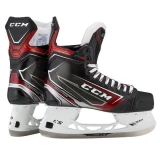 CCM Jetspeed FT480 Senior Ice Hockey Skates
Brand New
About CCM Jetspeed FT480 Ice Hockey Skates - Senior
The CCM Jetspeed FT480 Ice Hockey Skates are designed for the competitive player who wants a lightweight, yet durable skate. The FT480 features a new, advanced mold that provides a comfortable, close fit. The reinForced composite outsole is lightweight and stiff, providing excellent energy transfer and tight turns. The hollow-ground, stainless steel Blades offer superior edge life and durability.
CCM Jetspeed FT480 Ice Hockey Skates - Senior For Sale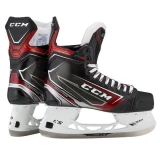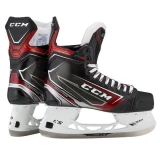 Most Popular Skates
CCM Jetspeed FT480 ice hockey skates Variations
CCM Jetspeed FT480 Ice Hockey Skates - Senior Detailed Review
Detailed Review
The CCM Jetspeed FT480 Ice Hockey Skates are designed for senior players who demand top performance and comfort on the ice. These skates feature a multitude of advanced features that make them stand out from the crowd.
One of the key features of these skates is the RocketFrame Composite Quarter Package, which provides excellent support and durability while remaining lightweight. The skate also features a TotalDri Pro+ Liner, which helps wick away moisture and keep your feet dry during gameplay.
The FT480 also features a high-performance tongue with lace-bite protection, allowing you to focus on your game instead of experiencing pain or discomfort on your foot. The skate also includes a multi-density memory foam ankle padding that provides increased comfort and support while reducing break-in time.
These skates utilize the Speed Blade XS holder, which allows for quick and easy blade changes without having to remove the holder from the skate. This means you can swap out dull blades for fresh ones during intermissions or between games with ease.
The CCM Jetspeed FT480 Ice Hockey Skates are also designed with a customized fit in mind. They feature a thermoformable boot, allowing for personalized shaping and a custom fit that will help reduce pressure points and increase energy transfer. Additionally, the skate's asymmetrical toe cap design provides you with greater control and precision when making quick turns or stops.
Overall, the CCM Jetspeed FT480 Ice Hockey Skates are a top-of-the-line option for senior hockey players who demand the best in terms of fit, comfort, and performance. If you're serious about your game and want to step up your skating experience, these skates are well worth considering.
More CCM Jetspeed Products
CCM Jetspeed FT480 Ice Hockey Skates - Senior Questions and Answers
---
Ratings and Reviews
A little more than satasfied
I bought these skates and have skated in them a handful of times. They are a great fit and I feel comfortable out on the ice. I am pleased with the CCM Jetspeed line, as my previous skates were bauer supremes. What I like about them is that they are light weight. I also feel. very quick in these skates. If your someone looking for the middle of the line skate I would highly recommend.… read more They aren't the cheapest, and they aren't the most expensive, and I am someone who thinks this is the best value on the market right now. When they were released, they were $500, so getting them at $359 is a steal in my eyes.
GREAT Skate - upper level skater - Fits wider foot
Bought these for my U19AAA Daughter and it made the FULL season and FIT right from the start. Blades (Blacksteel) held up to long weekends and bought an extra set just incase. Dont think they would be bad on larger fellows but held up great for 50 games.
Specifications

Brand
CCM
Category
Skates
Product Line
Jetspeed
Width
D
Replaceable Steel
No
Sizes
12.0
Age Group
Senior
Daily Deals